As a management consulting firm, VAIIM Consulting provides corporate strategy, business strategy, marketing strategy and Big Data analysis in ICT, Healthcare, AI and other industries.
As differentiation in telecommunication sector becomes difficult with advancement in network system, we derived micro-segmentation strategy taking consumer's interests and current trends into consideration, in order to create lifetime value.
As location-based information paradigm shifts with the common usage of smartphone and mobile navigation, we derived profit maximization strategy in LBS(Location Based Service) for a leading telecommunication company.
Provided business strategy for the telecommunication company's portal(Nate.com) and social network(Cyworld) since its launch, and advised long-term operation and investment plans.
Conducted multiple projects covering industries such as e-commerce, media, game, as well as China market penetration strategy from analyzing business feasibility to establishing business action-plan.
Provided advisory for a leading telecommunication company to position as IoT market leader by analyzing main players, identifying main service area and required technical skills.
By strategic digital transformation of a leading household electronics to succeed in IoT platform business, we provided advisory in corporate visioning, portfolio management, platform designing, and operational action-plans.
Conducted multiple projects related to IT device such as activity tracker market penetration, global projector market research, and consumer electronics' device UX strategy.
Provided advisory to build long-term development strategy for a top-tier general hospital in search for the paths to overcome increasing healthcare cost, and developed actionable plans that led changes in hospital policy, organizational structure, performance management, spatial management, etc.
Provided market strategy for a leading conglomerate entering healthcare industry, to drive better decision in global market expansion and business management.
Leveraged innovative technology to build ICT convergence healthcare business model for a healthcare solution provider, and developed B2B, B2C health management product in convergence with wearable device, insurance product, or care institutes, etc.
Established globalization and export strategy for Korea's advanced Hospital Information System(HIS), PACS and Smart Hospital solution, and supported the export of healthcare ICT by analyzing market environment, developing marketing plan, investment scheme, and price negotiation strategy.
Provided total service for building a hospital, from market feasibility analysis, master-plan development and regional evaluation. Also, we conducted management consulting  prior to hospital opening by reviewing the commissioning status and provided recommendation.
Delivered the consulting service for a top-tier hospital from supporting R&BD(Research & Business Development), developing business strategy to establish marketing plan of medical devices.
Corporate Strategy
We provide advisory service in corporate visioning, portfolio management, investment and globalization.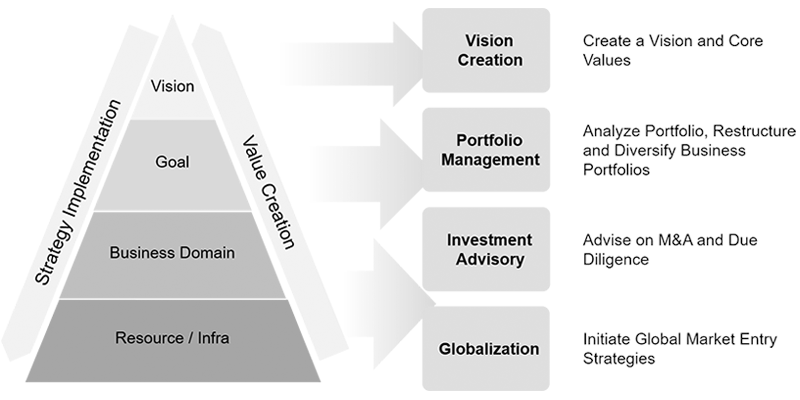 Business Strategy
We provide growth and innovation strategy for the existing business, as well as advisory in new business development.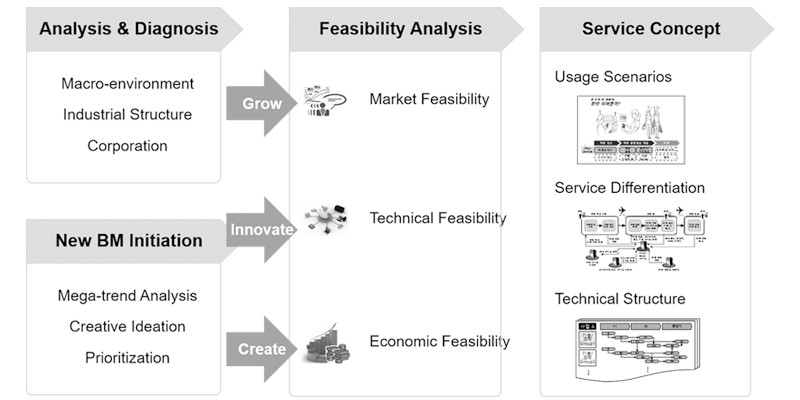 Marketing Strategy
We provide advisory service covering overall lifecycle of marketing strategy from customer segmentation, 4P strategy, marketing infrastructure, etc.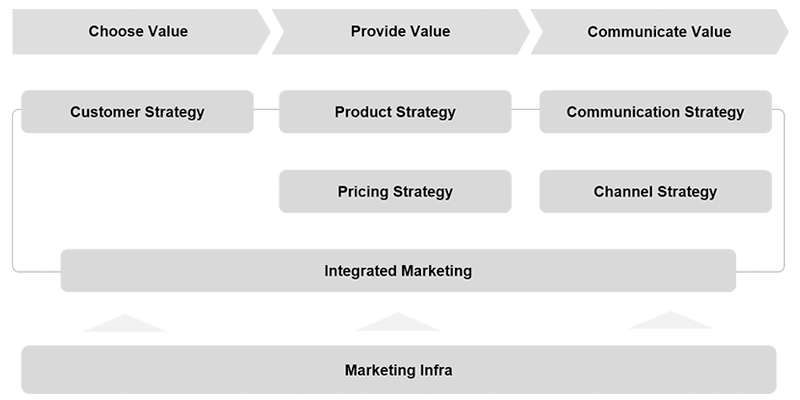 Data Analytics
We provide Big Data analytics service covering advanced data analysis, modeling, and forecasting.